OVER 100,000 Copies SOLD!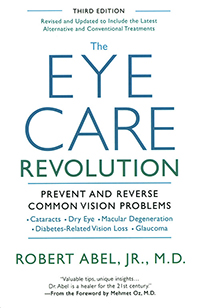 Covering everything from the latest high-tech laser treatments to centuries-old Asian remedies, Dr. Abel's authoritative, reliable information will help you and your doctor become full partners in saving your eyes and preserving your overall good health.

"If you have an eye condition, ask your ophthalmologist how he will treat you. Then pick up Dr. Abel's book and note how many more answers he gives. I can vouch for the fact that the options he offers, being natural and nutritional, are far better."
                                                                    Robert C. Atkins, M.D
"Valuable tips, unique insights. Dr. Abel is a healer for the 21st century."
                            From the foreword by Mehmet Oz, M.D.
DISCOVER THESE SECRETS
How Alzheimer's can be predicted through the eye.
Why sleep apnea can cause blindness.
Why computers and texting are creating an epidemic of nearsightedness.
Retina chips and stem cell therapies that offer promise for macular degeneration.
How your prescription drugs can give you cataracts….or glaucoma.
New devices that allow the blind to "see" through their tongues.
How to protect your children's eyes.
How to administer eye drops with your eyes closed.
A safe, herbal treatment for glaucoma.
Surprising ways vitamins can protect and heal your eyes.
Easy steps to end eyestrain.
New developments in LASIK surgery.
How to improve lazy eyes through acupuncture and vision therapy.
Much, much more!
Order Book Now!
REVIEWS
***** We need more like him, a patient-oriented doctor, not just focused…
By emma sandford
This is inspired. He is an evolved man and an avant-garde ophthalmologist. We need more like him, a patient-oriented doctor, not just focused on pill-pushing for symptoms and not focusing on just his few square inches of the body. Whole body, whole person, whole patient. GREAT. My new hero.
***** Complementary medicine, well presented
By Kenon
A very valuable book. The complementary approach to eye care well presented by Dr. Abel is much needed in all areas of U.S. medicine.